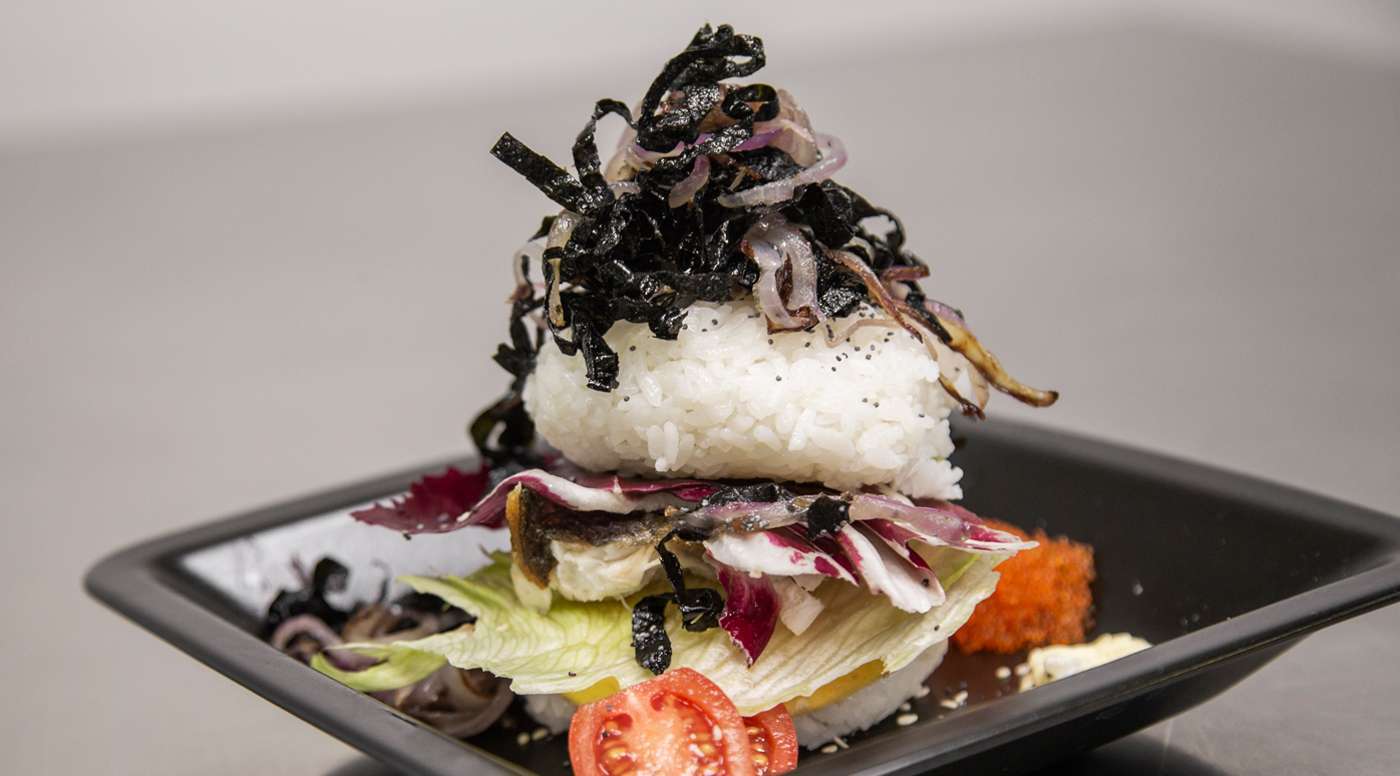 With seabass
by Dimitra Panagiotopoulou
Ingredients (for 2 burgers)
310 gr sushi rice
5 sheets of Nori (seaweed for sushi)
1 piece of kombu seaweed
120 ml rice vinegar
3 tbsp. Mirin
2 tbsps. sugar
½ tsp. salt
250 gr seabass filet
1 tbsp. sunflower oil
1 tbsp. soy sauce
1 whole ripe avocado
1 yellow bell pepper, 1 red bell pepper, 1 orange bell pepper
½ cucumber
1 carrot
1 courgette
The heart of 1 radicchio
1 iceberg lettuce
4 eggs
For the decoration
Avocado
fried onion
Nori
Tobiko
Pickled ginger
Black and white sesame seeds
Serve with pickled ginger, wasabi, soy sauce and Japanese mayonnaise.
Method
Boil the rice together with a piece of Kombu for 12 minutes. Remove the kombu and place the rice in a utensil. Before it cools down entirely, add the rice vinegar into which you have previously stirred the mirin, sugar and salt. Let it stand for 5-6 minutes. Roll the rice into two balls, press down to shape like burger buns. Spread the surface with Asian mayo and ketchup. Lightly saut
é the fish filet in the sunflower oil. Pour the soy sauce over it. Beat the eggs and make a thin omelet. Cut into circles with a cookie-cutter. Place a circle of omelet onto the rice "bun", followed by a piece of fish and a bit of iceberg lettuce or radicchio. Cover with the other half of the rice, decorate with fried avocado, onion and Nori, tobiko, pickled ginger, white and black sesame seeds.